Hundreds of people were likely to have been injured in a fiery explosion on Wednesday night at a fertiliser plant near Waco, Texas, that damaged or destroyed numerous buildings including a nursing home, authorities said.

The blast was reported at about 8pm (1am GMT on Thursday) in West, a town of 2,700 people about 80 miles (130km) south of Dallas and 20 miles (32km) north of Waco.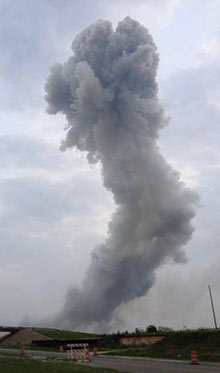 A spokesman for the Texas department of public safety, DL Wilson, told Reuters the blast had probably caused "hundreds of casualties" and damaged many homes.
He added that a nearby nursing home collapsed from the explosion and people were believed trapped inside.
A Reuters reporter observed that a middle school and several homes in the area appeared to have been severely burned.
More than 100 people injured in the blast and fire were being taken to Hillcrest Baptist Medical Centre in Waco, said the vice-president of hospital operations, David Argueta.
The Hillcrest chief executive, Glenn Robinson, told CNN that the hospital was seeing "everything from orthopaedic injuries to patients that are experiencing serious blood loss".

The Texas governor, Rick Perry, issued a statement saying his office had "mobilised state resources to help local authorities" deal with the incident.